What Should I Do Right After A Hit-and-Run Accident?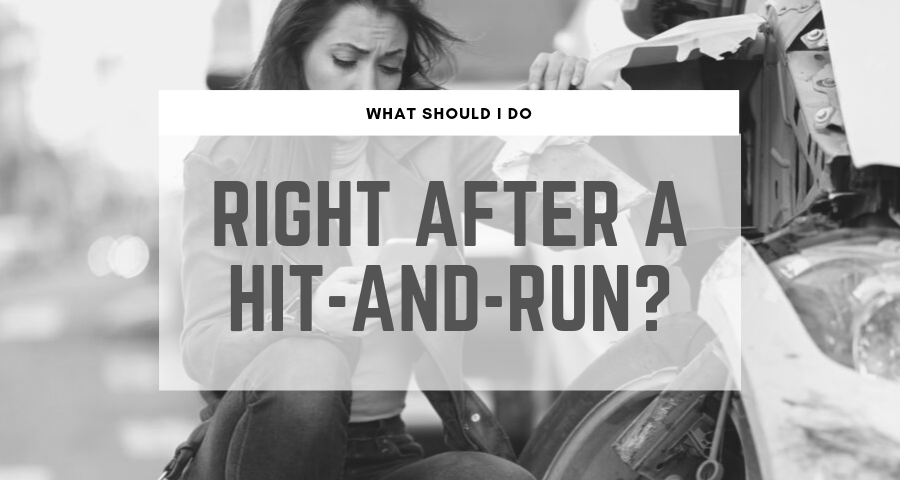 November 11, 2019
Carwise
While stopped at a traffic light one day your car gets rear-ended by another vehicle. After the initial shock wears off, you get out to inspect the damage and check on the other driver. Much to your surprise, they take off and speed away from the accident scene. Looking down at your car's crumpled bumper, a queasy feeling forms in the pit of your stomach. Who's going to pay for the repairs? Being victimized by a hit-and-run driver is a helpless feeling, but knowing what to do immediately afterwards will help make the entire process go more smoothly.
Why Hit-and-Run Drivers Flee  
A hit-and-run accident is when a driver hits a pedestrian, another motorist or bicyclist and then leaves the scene without presenting identification or offering their assistance. Hit-and-run drivers usually flee the accident scene for these reasons:
Under the influence of alcohol and/or drugs
Not having a valid driver's license, or driving on a suspended license
The vehicle is transporting illegal goods, including drugs
They don't have auto insurance
The vehicle is stolen, or they used it without permission
The driver has an outstanding arrest warrant
They're driving an employer-owned vehicle and want to hide the fact it was involved in a crash
No matter the reason, a driver who flees the scene of an accident in any state faces harsh consequences if caught.
Fleeing Drivers Face Stiff Penalties
Leaving an accident scene prematurely, regardless of who's at fault, may result in one or more of these penalties:
Criminal charges
Fines
Jail time
Driver's license revocation
In addition to these actions, the victim(s) can also sue the negligent driver for damages. Several states now consider it hit-and-run when you merely clip an unoccupied car in a parking lot and don't leave a note. And in some states, it's even illegal to hit an animal without stopping and reporting it. So, when your initial reaction is to leave the scene of an accident prematurely, don't!
Take these Steps After an Accident  
Always try to remain calm and collected right after you're involved in a collision, even when
the other driver decides to take off. First, check to make sure that you and your passenger(s)
are okay. If not, call 911 for immediate medical assistance.
If possible, also request that a police officer be dispatched so they can investigate the scene and issue an accident report. Whether or not a hit-and-run driver is involved, always remember to take these steps after an accident:
Try to make out the make, model and license plate number of the other vehicle.
Do not attempt to follow them, but instead remain at the scene until help arrives.
If you or anyone else remaining at the scene are seriously injured, promptly call 911 to seek medical attention.
Look for any witnesses who can provide more details to the police.
Contact the local police department to report the incident, including what you know about the other driver, vehicle and any potential witnesses.
Call your insurance company and report the accident. They will walk you through how to get your injuries treated and car repaired.
Will My Insurance Cover the Damages?
Unfortunately, many hit-and-run drivers are never caught. However, your car repairs should be paid for if you have collision coverage in your policy, although you may have to pay a deductible. Another option starts with the fact that in most states a driver that flees the accident scene is classified as an "uninsured" motorist. As a result, if you have uninsured motorist (UM) coverage your repair costs, minus the deductible, should be picked up by your insurer. To better protect yourself beforehand, include both collision and UM coverage in your policy.
Your Collision Repair Solution for Hit-and-Run Drivers
Having your car damaged by a hit-and-run driver is stressful, but promptly locating a good collision repair shop featured in the nationwide Carwise referral network will help put your mind at ease. All auto body and glass repair shops listed through Carwise are I-CAR and ASE-certified, which means they have the technicians, equipment and services necessary to get your ride looking and performing like new again.
Most shops speak directly with insurance companies, so you don't have to, and warranty their
work to restore your peace-of-mind. And, by downloading the convenient Carwise app to your mobile device, you can track your vehicle's repair status from start to finish. To search your zip
code now for a customer-reviewed auto body or glass repair shop nearby, please visit:
www.carwise.com now!